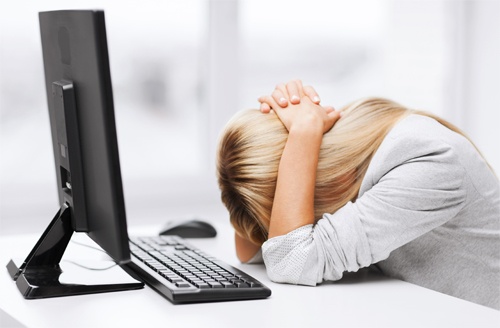 Last time we looked at a checklist for finding your perfect IT support partner. We listed all the key things that separate the good from the great to help match you with your perfect outsourced IT partner. But what are the signs of a bad partner? What should you be on the lookout for, if only to dodge like the plague? And how do you know if your current IT support partner isn't fit for the job?
Outsourcing critical parts of your business is meant to free up time and resources for your business - but picking a bad apple from the bunch can be time-consuming and costly.
Here are 5 key warning signs to watch out for with outsourced IT support partners:
1) Your Account Manager doesn't care
Account Managers can usually do a pretty good job of acting like someone who cares – that's their job, after all. But if they don't actually follow through on their promises then they are demonstrating that they really don't care on a fundamental level.
Your Account Manager is supposed to be your go-to person, the one that keeps on top of things until they get done, and then reports back to you. If you're doing more chasing than they are then why are you paying them?
2) Ticketing, call logging and reporting systems are operated by carrier pigeon
When you consider that downtime costs the average SME £11,500 an hour, every minute really does count. In this time-is-money situation you need fast ticketing and response times from your IT support partner. If it seems like they are still using carrier pigeon to convey support requests then it is time to cut and run.
3) Their processes are as clear as mud
What happens when you submit a support request? Do you know what will happen, the process that your IT support partner will go through to fix your problem? Or does your support ticket disappear into an opaque and muddled system that may or may not solve your issue?
Your IT support partner should have clear processes, so you're confident your request will be dealt with in a timely and effective way. If the processes aren't there, or they aren't clear, then you need to look for a different IT support partner!
4) Evidence of their success is thin on the ground
Sales staff might have their pitch down to a tee, but if they can't back it up with facts, case studies, testimonials or actual customers you could talk to, then it's probably just hot air. There's nothing wrong with a well-polished pitch, but without any evidence of their success how do you know they aren't just a couple of blokes in a tent with a laptop?
5) Their 'experts' are always out of the office
If you have a major issue, are you confident that you can get in touch with an expert on the matter? Or do you find that all of their 'experts' seem to be constantly tied up with something else?
When a large, complex issue hits the fan you need to know you can contact a third-line expert (the real heavyweights) and get it fixed as soon as possible. If you keep getting punted to first or second-line IT support staff then you need to seriously consider if your IT support partner is fit for the job!
For a full list of essential qualities to look for in an IT support partner, download our free eBook: 'Why good enough just isn't good enough: how to choose the right IT support partner'.