Having an in-house IT support team might feel like a good security blanket, but for most businesses it is a relic of a bygone era. Outsourcing your IT support benefits your bottom line and allows your business to concentrate on innovation and growth.
But you're a savvy professional. You're not going to change the way your business operates without some compelling reasons. So, here are six…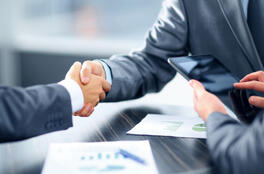 1) Controlled, predictable costs
In the wake of the financial crisis every business is watching their balance sheets with closer scrutiny. Cash flow needs to be balanced and predictable to help avoid any nasty surprises down the line.
By outsourcing your IT support you know exactly what you will pay and when – no surprises.
2) Lower staff costs
Paying for a full-time in-house team isn't like paying for insurance, it's like hiring a private driver when all you need is a taxi every once in a while.
An outsourced IT support team, on the other hand, means you get access to the experts you need exactly when you need them – 24/7/365. Not only does this lead to lower staff costs overall, it also leads to reason number three…
3) Access a wider pool of expertise
Your in-house team might be experts in certain areas, but they certainly won't be experts in all areas. Outsourced IT support allows you to access a much wider pool of expertise, getting the right specialists to solve your IT issue and having you back up and running in no time.
4) Focus on being the best at what you're good at
Chances are, your business is not IT support. So why not focus on being the best at what you do do?
Investing in outsourced IT support means that you can focus on improving your efficiency, offering your clients and customers even greater value. You'll likely find ways to trim your bottom line as well, making you even more profitable. Win-win!
5) Access new tech immediately
You know the script: you find a new technology area, do some research and find the tech you want, but when you talk to IT support they laugh at your rollout schedule.
It does take time to research, plan and test new technology with your current system, but your outsourced IT support team will know what will work, why, how much it will all cost, and what you will save. So you can roll out cutting-edge tech while it's still cutting edge.
6) Reduce risk with fully accountable outsourced IT partner
Who's watching your business-critical IT when your support team is in bed? Chances are they don't work in shifts around the clock, so during their time off your IT systems are worryingly at risk.
Outsourced IT support teams really do work in shifts, so you'll always get a freshly-rested expert when you need them – mid-day or mid-night!
For even more reasons to outsource IT support, download our free ebook 'Make life simpler: Why outsourcing IT functions makes perfect business sense'.